College basketball just came out with it's newest tool for selection heading into March Madness. It's called NET Rankings. If you've never heard of it, you're definitely not alone. The NCAA just recently rolled it out. NET Rankings will take into consideration, a multitude of factors in order to make selection for the NCAA tournament more accurate.
So what will it include, you may ask? Aside from the very obvious, game results and team record, it will also look at net offensive and defensive efficiency, winning percentage, adjusted winning percentage, and scoring margin. For those not as well versed in sports, let's break down the importance of these more complicated factors and what they mean.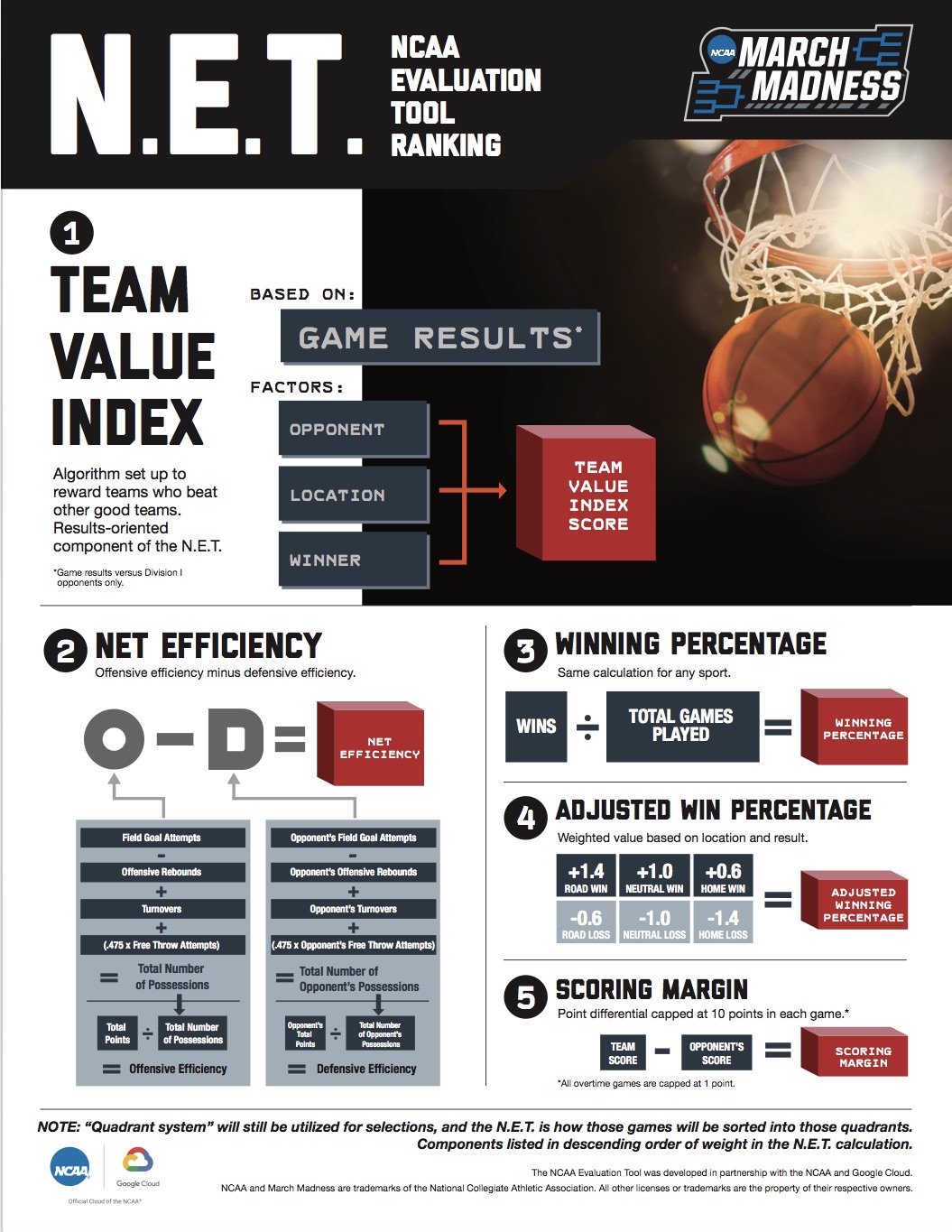 Net Offensive and Defensive Efficiency
Although this is sports, sometimes actual math is involved to be able to determine the efficiency of a team, rather than just points and breaking down the more superior players. Net offensive and defensive efficiency actually have formulas. They are the following:
Net offensive efficiency is found by the field goal attempts - offensive rebounds + turnovers + (.475 x free throw attempts) = total number of possessions. A team's points divided by the number of times they had possession of the ball is the net offensive efficiency. This determines what they actually did with the ball when they had it. 
Net defensive efficiency is found by the opponent's field goal attempts - opponent's offensive rebounds + opponent's turnovers + (.475 x free throw attempts) = total number of possessions. Again, opponent's total points divided by opponent's total possessions; this is the team net defensive efficiency.  
Adjusted Win Percentage 
This factor is mostly affected by location and result. On the road wins and losses tend to carry more weight, as one would expect because it's harder to win away from home. 
Scoring Margin
The scoring margin basically just means by how many points a team won by. As one would imagine, this carries a lot of weight considering if a team wins by 50, they're clearly very superior to their opponent. 
In the past, Rating Percentage Index is what helped ranked the teams, which was solely based on wins, losses and strength of a team's schedule. The Net Rating will be far more accurate and ensure fairness, as the NCAA stated.
Make sure to get your favorite team's shoes before March Madness hits. Shop all our styles here!